Our Promise to You
We will provide your dog with the same care and attention that you do when they are in our salon. Also, we will only use the highest quality dog-specific products, as your dog's health is our number one concern.
What Makes Petit Pooch Salon Unique
Don't let auto correct fool you, the "Petit" in our name isn't missing an "e" on accident. We love French language and culture, so we decided to theme our salon around it.
When you walk into our salon, you wont get the flustered, sweaty environment that you might find at other dog groomers. We strive to maintain a calm, orderly salon that actually smells like a salon should—fresh and clean. We felt that Traverse City was ready for an upscale dog grooming experience.
Your Trusted Groomers
Danielle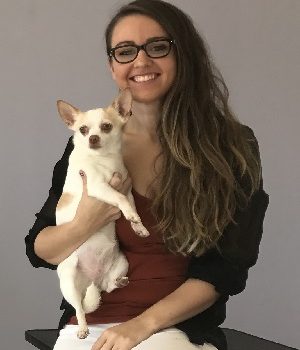 Danielle was born in Flint, MI and graduated from Kearsley High School in 2008. She moved to East Lansing where she met her Spartan Alum husband in 2012. After years of searching, she found the creative work she had been looking for in dog grooming. She began training in 2014 and quickly became the leading groomer in her salon. After following her dream to live in her family's annual vacation spot in 2016, she continued her work as a dog groomer at a local salon. There she met her close friend and future business partner Kelsey. Danielle and her husband have a Short Hair Chihuahua named Bella and two cats.
Kelsey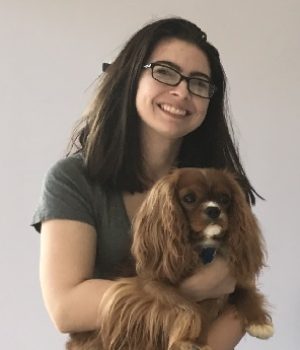 Born into a military family, Kelsey was raised across the United States, coming to Traverse City in 2003. She graduated from West Senior High in 2007. She has been in the grooming industry since 2008. She believes every dog deserves to look and feel their best, and loves that dog grooming blends health and aesthetic. Her desire behind opening a grooming salon was to offer the same level of attention and experience to dogs as a dog owner might give to themself. Kelsey is married to a Traverse City native and has two daughters and a Cavalier King Charles Spaniel, Wally. Her hobbies include traveling, sewing, and writing.
Things to expect when you come in
You'll breathe in a scent of fresh lavender growing in our windowsill, with our oil diffuser accentuating the scent. Lavender has proven to have calming effects on humans and dogs alike. You'll enjoy our large lobby area with secure gates keeping unfamiliar dogs away from yours. Have a seat on the ottoman if you like. It'll be nice and bright with lots of natural light. Our floor-to-ceiling windows help the salon feel bright and lively. Finally, you'll notice French art and decor all around. Bonjour, madame.